Friday, November 26, 2010
So the time arrived to work off some of the feast from Thanksgiving. I had considered hiking within an hour of home and finishing the Georgia portion of the Pinhoti Trail. However, concerns about modern rifle season in north Georgia led me to leave the blaze orange mostly at home and take a walk up in Great Smoky Mountains National Park. The Benton MacKaye Trail, still fresh in my mind from my October section hike, called to me.
On this section, I would enjoy the company of my old friend and fellow Marine, Hooch. We met at 8:15 in Bryson City, North Carolina and drove our vehicles to the Noland Creek Trailhead on the Smokies' "Road to Nowhere". From there, my wife drove the two of us (and the ever present Dewey Bear) to 20 Mile Ranger Station where I ended my October section. At 10:30, we posed in the chilly, misty 40-degree morning for a trailhead snapshot.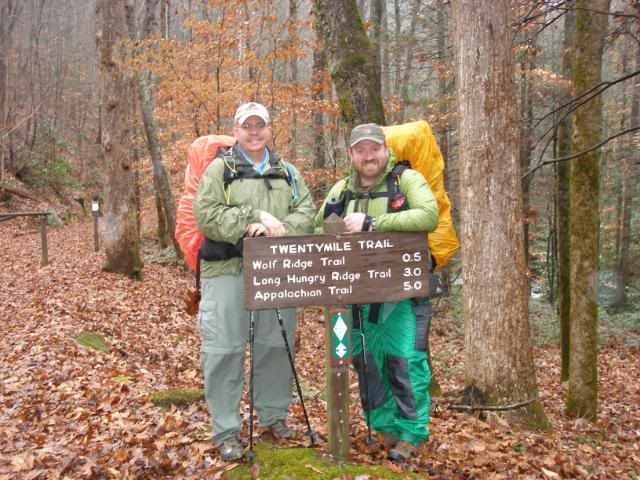 We stepped off to a 2300 foot climb up to the Appalachian Trail intersection near Shuckstack Firetower. Spread over 5 miles, the climb was surprisingly easy and we made excellent time.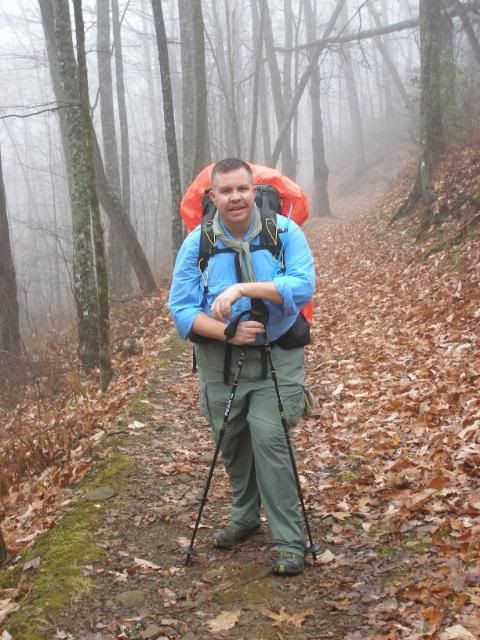 Just as the grade became steep enough to slow us a bit, we crested the ridge where the AT's white rectangles met the BMT's white diamonds.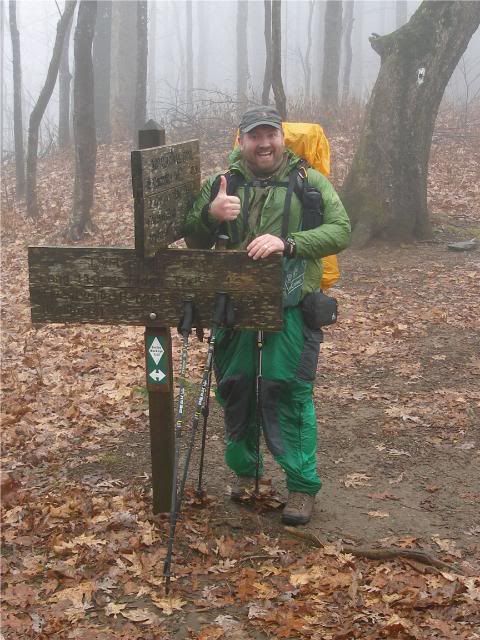 With minimal visibility, we chose to forego the extra mile round trip to Shuckstack, which would offer no views this day.
I had hiked this next section, 28 miles including the Lakeshore Trail, 12 years earlier in the opposite direction. I warned Hooch to be ready for a ridiculously steep section of trail. I thought maybe I had imagined the trail as tougher than it was since I had climbed it a decade ago. But as we descended sharply, and our thighs worked harder than they had while we were climbing, I realized my memories were spot on.
We stopped for a quick lunch at Campsite 91, then pressed on. Daylight was an issue as we pushed ahead, hardly slowing as we zipped over log bridges.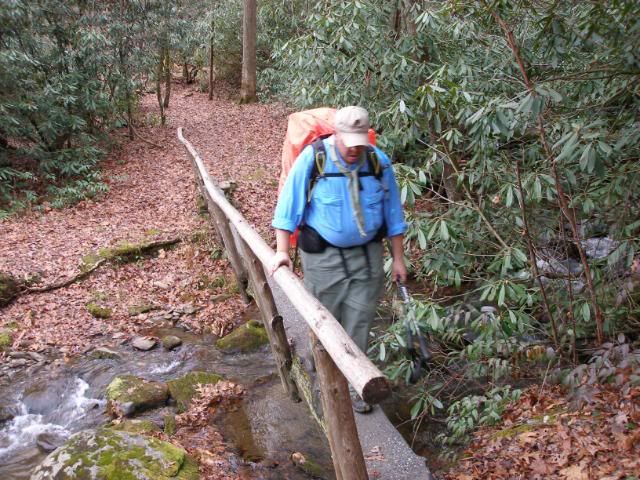 We passed a couple of gentlemen performing trail maintenance at Campsite 90, then we began a simple 600 foot climb. Normally, this would not have been any challenge. But with a long climb and hard descent behind us, and the need to push onward beyond we ran out of daylight, this simple climb hurt.
We reached Possum Hollow Campsite (#88) around 5:20. We would pretty much run out of daylight just as we put the finishing touches on our hammock rigs. I propped up one side of my tarp so I could see my dinner as it cooked. My ENO Doublenest, my preferred winter hammock with its Speer Snugfit underquilt, was ready for the cold night ahead.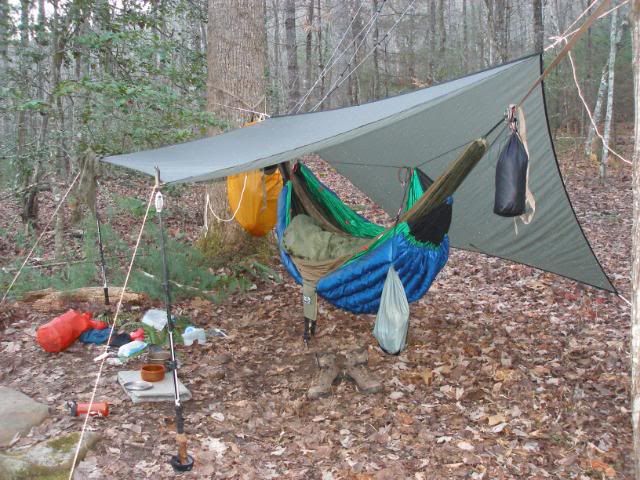 Hooch battened down his Speer Winter Tarp and readied himself for a sub-freezing night.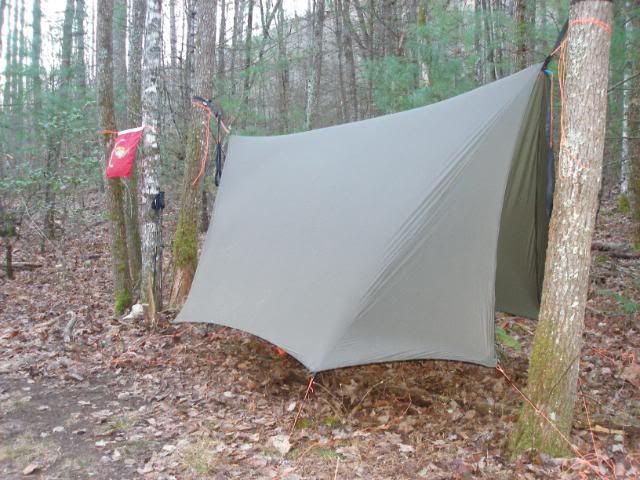 Hooch enjoyed a parmesan and bacon noodle freezer bag dinner, while I ate an appetizer of chicken soup and club crackers and a main course of freeze-dried spaghetti. As we finished dinner, Dewey Bear bundled up in preparation for a chilly night.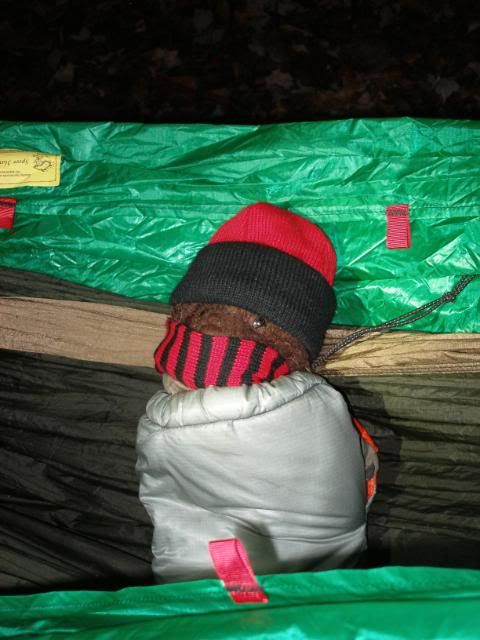 Despite an evening that quickly dropped to the mid-20's, we all slept soundly in our hanging cocoons.
Saturday, November 27, 2010
We should have been up and moving at first light, but since it was pretty cold and Hooch and I had both been up way too early for the drive to Bryson City on Friday morning, we slept in a bit. A sluggish pack-up led to a 9 AM start. Still, we were confident our 14-mile day was level enough that we would cover it much quicker than the previous day's 11 miles. As it happened, we were right, and the day would be memorable for cool sunny weather and great walking.
We quickly made our way the mile and a half to the Calhoun House on Hazel Creek.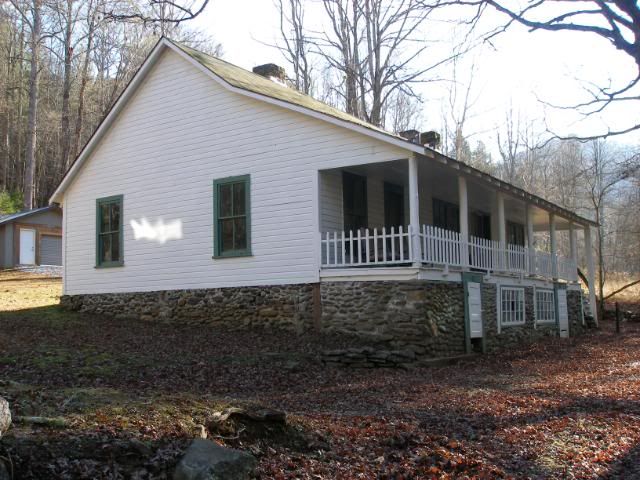 The old Calhoun House has been preserved in a dingy but sturdy state. We checked out the interior.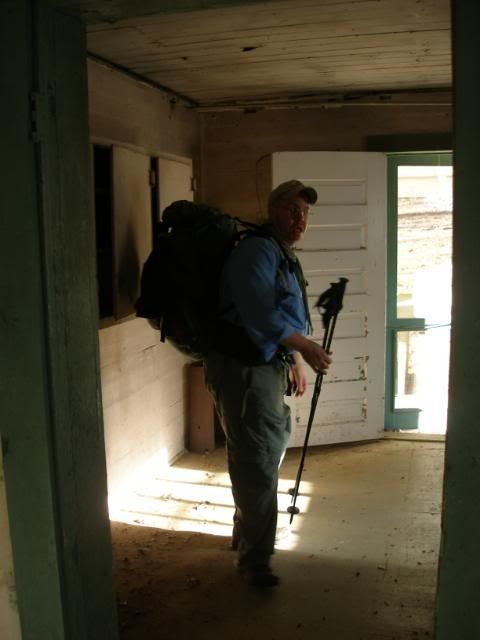 While camping is not allowed in the house, we pronounced it a good place to wait out a storm. Proctor Campsite, just across Hazel Creek from Calhoun House, would be a nice camp as well.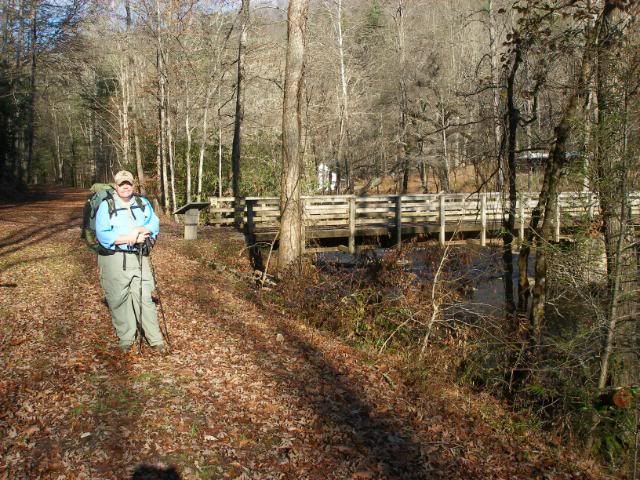 We pushed onward, passing the remains of many old homesteads. Up until midday, the Lakeshore Trail was never particularly close to the shore of Fontana Lake. But we began to get a number of winter views from a couple hundred feet above the lake, with occasional open vistas.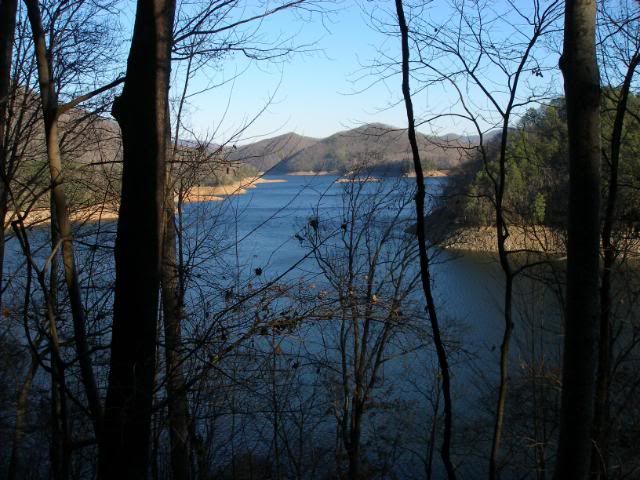 We stopped for a quick lunch at Campsite 81, then pushed on steadily. The gently rolling trail led us to our home for the evening at Kirkland Creek Campsite (#76) around 4:25, an hour earlier than the previous day.
We set in comfortably, though the shadow of the valley site chilled us fairly quickly. I attached the doors to my Warbonnet Big MamaJamba Tarp and battened them down for the night.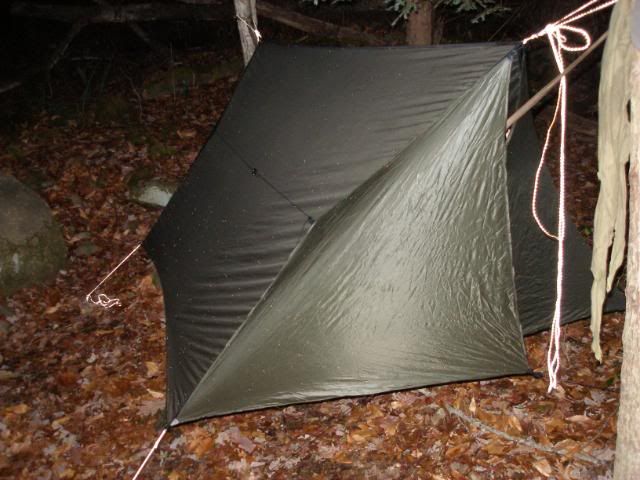 Another hiker, a southbound BMT thru-hiker entered camp around 5:15. We chatted very briefly while he set up his tarptent, then he headed inside.
Hooch and I enjoyed another evening of freezer bag noodles (for him) and soup plus chili mac for me. Afterward, with the temperature already below freezing, we hung our food bags on the bear cables and headed to our cozy hammocks.
Sunday, November 28, 2010
With drives of 3 or more hours ahead of us, Hooch and I chose to get up at least an hour before daylight so we could get to our vehicles fairly early. Our 12-mile day offered relatively easy climbs and we were ready to push ourselves.
Dewey bear complained bitterly when I pulled down the hammock rig before daylight. I compensated by giving him a warm spot to rest.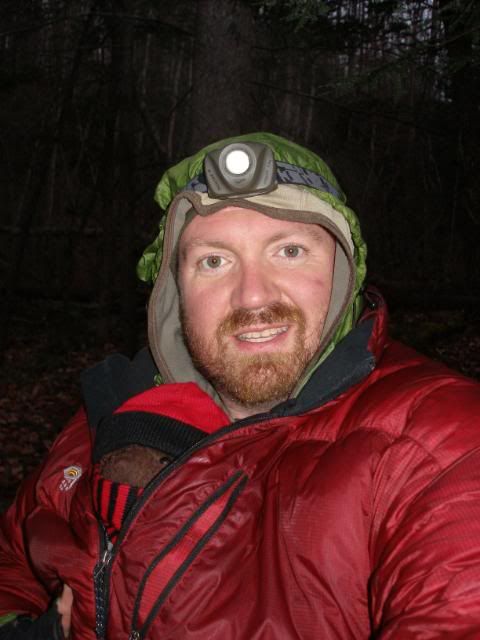 I heated water for pumpkin spice coffee and finished a pemmican bar. Then I packed everything away in my big winter pack, a Gregory Makalu Pro.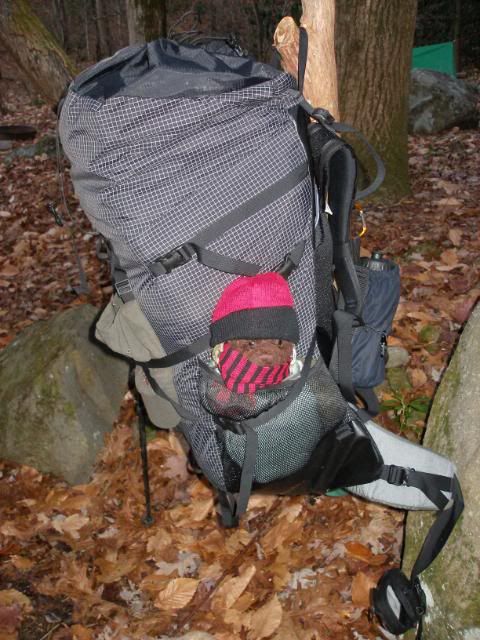 I could have used my workhorse, a ULA Catalyst, but with a large down overquilt, underquilt, and parka, and fleece pants, I preferred the extra room of the Makalu so I would not have to compress all my down very much. Despite its size, the pack was still quite light, and it carried beautifully.
In the morning chill, we stepped off at 7:30. Fog on Fontana Lake greeted us as we climbed away from camp.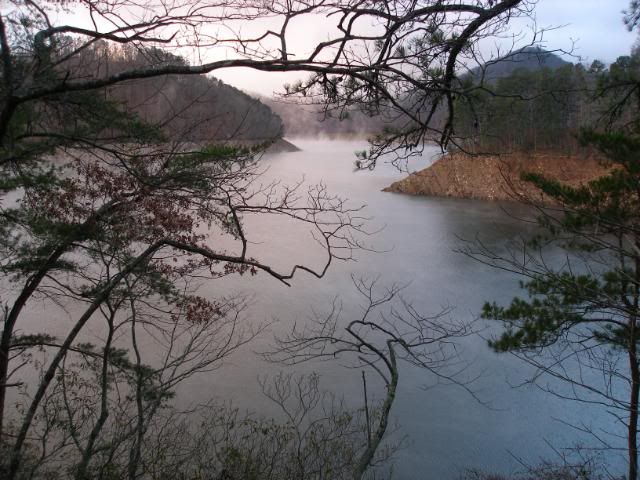 As we rolled along, we passed still more old homesites, reminders of those who lived here before Fontana was a lake and the Smokies were a national park.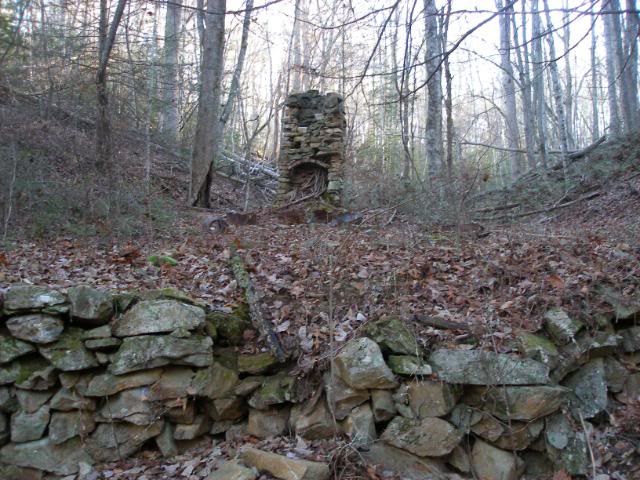 The sun finally rose high enough that I began to actually sweat. Around 10:30 I removed my windshirt and, shortly after, my gloves for the first time on this trip. An hour later, Hooch and I stopped for our final lunch break at Lower Forney Creek Campsite (#74).
From there, we pushed on quickly for the last 3 ½ miles to our vehicles. As we rounded a bend, we suddenly stepped onto very firm trail, pavement beneath the leaves. Looking up ahead, we saw the much-photographed tunnel at the end of the "Road to Nowhere", the one that was never completed between Bryson City and Fontana Dam.
We continued on along the paved trail, quickly arriving at our vehicles at 1:30. There we paused for a photo at the trailhead.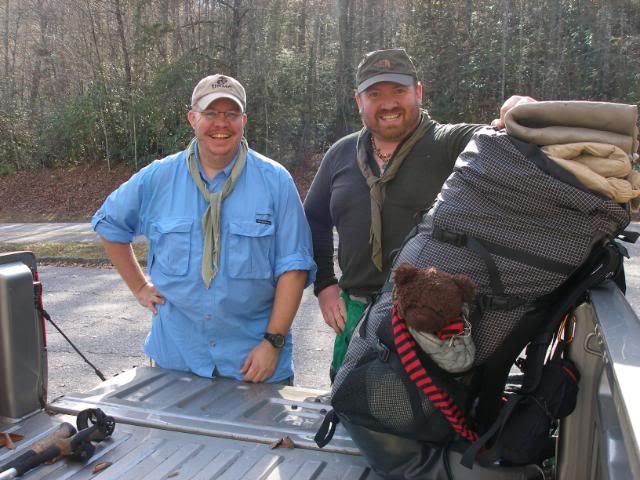 Our hike was done, but our memories would last. Hooch and I stopped in Bryson City for a sit-down lunch, then we headed our separate ways for home.
With luck, and some decent weather in the week before or just after Christmas, I hope to finish my Benton MacKaye Trail section hike.