Wayback and Cat, I will try to answer and also give insight to the issues and questions raised.
First I must say that this is my list and my gear and yes I do actually use it and it is not just some made up hypothetical gear list that looks good. I use the gear, regularly and for me this is what works.
1. Yes a lot of thought and practice has gone into my gear. It has taken me about four years to get to this point. I did not intend for it to come in under 5 pounds it just did. Nor am I trying to tell everyone this is the way they are supposed to be. It is my goal and aim in the hopes that maybe someone can use it as a reference point to go off of and cater it to their own hiking style.
2. In regards to comfort, function, and safety.
Comfort, for me I am comfortable with what I have. In fact I have added some comforts back into the kit. I had to bite the bullet and purchase an air pad this year because my hips and back can not take a foamy any more. I also take a camera as to where I used not to. The clothing I take keeps me comfortable and warm very nicely. In fact the down jacket is another comfort item added this year, just because my bones can no longer take a silk weight capaline and wind shirt, so the down jacket replaced the capaline. I am comfortable not carrying a heavy pack!!!
Functionality, I seek ways to get more than one or two uses out of every piece of gear, in not looking at what I was not using, I noticed I never boil more than 12 oz of water so why am I taking a 24 oz Heiny can with me. So I cut one doe that holds 12 oz and allowed some boil room (which actually makes it 14 oz), this is just one example, but I have carries this philosophy into every aspect. I continually analyze what I am taking, what worked, what did not and make changes accordingly.
Safety. You are more prone to injury with a heavy pack that can throw you around and get your center of gravity off balance than a light one that is barley noticeable. I rely on my survival and ingenuity to get me through the rough spots, and believe me they have. My first aid kit though it may be light actually has a lot in it, probably some stuff that no one else has in theirs. I always rule on the side of caution and prepare for it as much as I can.
3. Weather conditions, Actually a lot of my hiking is done off trail via "throw a dart on the top and plot a route" I have weathered some serious storms in my tarp (for a complete and good discussions on tarps, listen to the
PBF pod cast
) When pitched in some very enclosed positions they can protect you just as well as a tent. In fact I have configured it to be completely enclosed at times (though be it for demonstration purposes, because I feel that it would then create a rains storm inside.) It does not matter the terrain, I hike it. I have hiked in bush so thick it takes an hour to get a half mile and mountain faces so steep that I had to use hand over hand to get to the top. And I tell you what I am glad I had on a light pack and not a heavy one when I was doing it, because I was dry camping that night as well. So yes I take into consideration and have hiked in adverse weather conditions with this kit. I know it is no "walk in the park" nor do I plan like it is. But through a level head one can overcome a lot of adversity.
Rainwear. I do not mind being wet, as long as I keep moving I can stay warm, also the Montane wind shirt does a decent job of spatter protection and I have yet to ever need to trash bag, yet I take it just in case. I just recently picked up a Tyvek jacket that weighs the same as the Montane so I am anxious to do a shower or sprinkler test with it, as well as take it on my next hike, maybe I will even get some rain to truly test it out.
4. Socks, TP, soap,
Socks, I have been blessed with tough feet and ankles. I wash them out nightly and let them air dry, and or I will do a river crossing with them and then take them off and hike w/o socks for a while in my shoes, and hang the socks outside my pack to dry. 4 days is my limit, if I am going on a trip longer than 4 days then yes and extra pair of socks and under wear come along. Then I do a nightly wash and swap.
TP. Nature first TP second thus only needing 2-4 squares a time. I know my body functions, and nothing happens until some time the 2nd day, which only leaves day 3 and the finish up trek of day 4. And again back to dual purpose. I can get another 4 squares out of my cut in half light load towel.
Soap, I use Dr. Bonner's peppermint soap in a 3cc bottle. It is very "sudsy" and I only need 1 drop on my tooth brush to do the job and 4 drops at a time to wash my hands. Which I do after potty, before meals, and also to clean the mouth piece on my bladder after a fill up or when ever I feel that I need to clean my hands or wash whatever. So3 cc's lasts me plenty. Again if it is going to be longer than 4 days I switch out to a 6 or10cc bottle depending on the trip duration.
5. Bp seminars and long johns. First the BP seminar is on how to "lighten up" I.E. instead of taking a 12 oz bottle of sun block with you, but actually only use 3 oz why not find a 3 oz bottle and transfer some into that and take it with you next time. Also how to get the most out of your gear, what to look for, ways to pair down, and multi purpose items etc, etc. The whole UL treatise is only discussed within the last 5 minutes or so and it is more or less a "and if you want to get as crazy and fanatical as me, here is the way I do it," it is more for example sake then anything else. I will give out my gear list just so that they have a spring board or reference to go off of and create there own methodology. I want them to do what works for them and what they feel comfortable with. As I tell them "you can have all the lightweight gear in the world and still die because you do not know how to use it."
So in closing, yes I do use all my gear listed, yes I know the limits of it and plan according to trip and number of days. I now how to, and regularly practice on how to, handle adverse weather. I will go out in the dead of winter or in a down poor of rain and sleet and try doing BP related things when I am cold, tired, freezing, etc, etc. But I do it in the safety of my back yard or the woods behind my house, so that when it hits the fan I know how to handle it. And believe me it has, and I am still here. This kit is for the typical 3 season backing trips, Early spring and winter get a way different list and some gear changes, especially in the clothing and shelter departments, the pack gets changed out as well. This style of hiking and the gear that is involved with it is not for everyone, and as Reality and Practical backpacking has put it numerous times, people need to do what is comfortable to them. For me this is what is comfortable. Too often people try to take there home environment into the wilderness, which is why there is such a huge market for over engineered, bomb proof gear and big stores to sell it in. In stead of us trying to adapt a little to the environment we feel as if we need to adapt it to our comfortable home environment. Which is why I feel that we as a hiking community need to be more concerned about advocating the outdoors then bantering over whether or not a person is going to survive on a minimalist gear selection., because the more people we can get evolved with wilderness exploration, the more advocacy within government and other entities we can have, so that we will actually have a place to hike in the first place. Hiker Dave taught me that on the PCT last year. He had a 60 pound pack and was happy as a lark with it. Why? Because he was out there and it did not matter who had the lightest pack it mattered that he and we were out there.
Shelter Weather Protection.
Example A: Buttoned down tarp for severe rain/weather protection & plenty room to sit up and cook. (***note*** this is not my normal configuration, but one I have used several time in bad weather)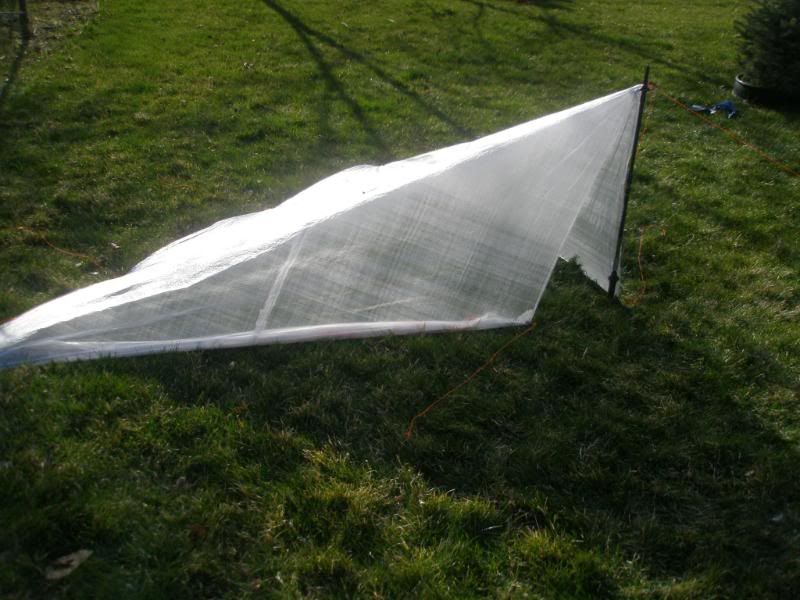 Example B: A More Buttoned down & wind shedding configuration.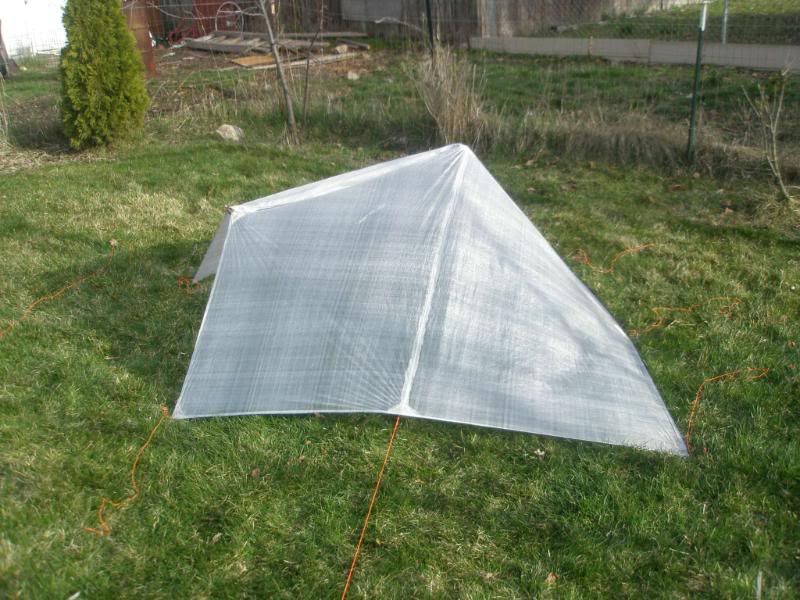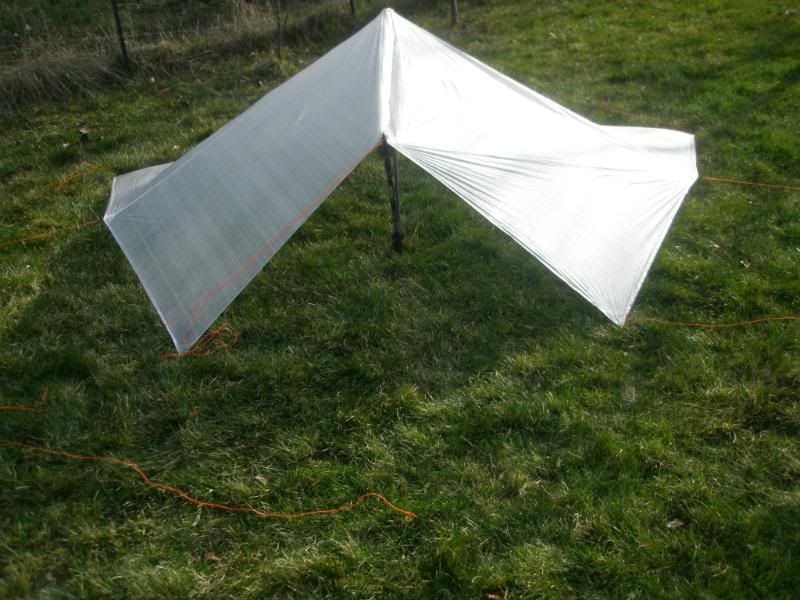 Example C: Complete enclosure, plenty of room to lay down, but would be very condensating inside, but may be good for some aplications.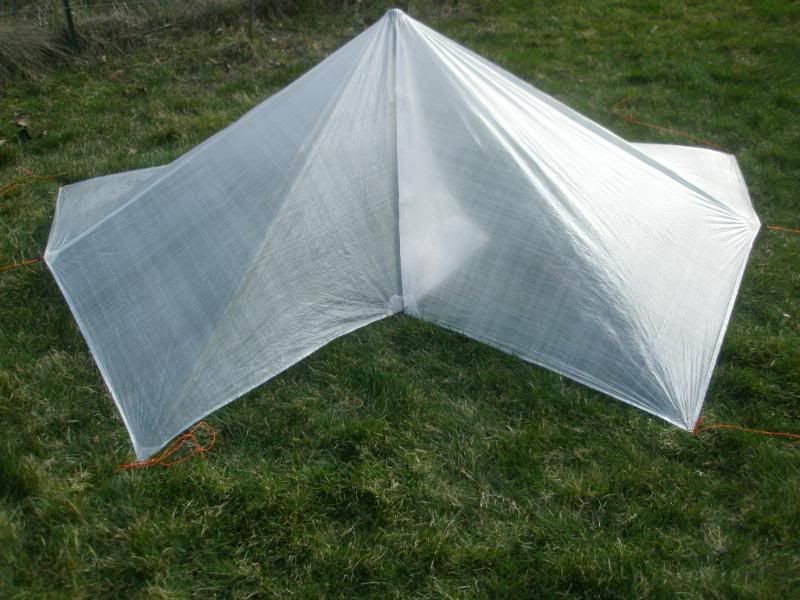 Notice the side "vents" to try create a cross flow of air.